My contributor copies of Sharp Notions arrived and it is a stunningly gorgeous book. It's hefty and printed on full colour glossy stock.
My embroidery, she breathed, is on the cover designed by Jazmin Welch. And my essay about my approach to SciArt embroidery is accompanied by images of some of my other pieces. Editors Marita Dachsel and Nancy Lee did such a fan­tastic job putting this all together.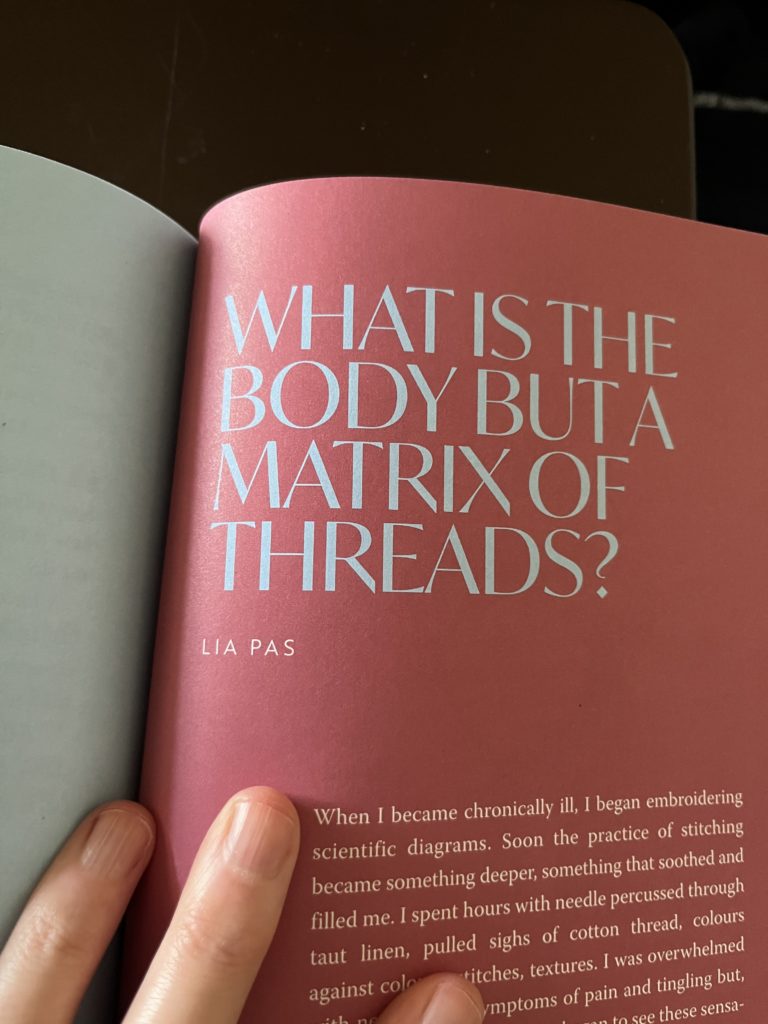 You can pre-order copies directly from Arsenal Pulp Press in Vancouver, BC. Pre-orders help small publishers like Arsenal create more excellent work, and you'll have the book in your hands by October!
ME Art Card Project
I took on a small art project by signing up for The Chronic Market's ME/CFS Art Card Project. This project aims to raise awareness about ME/CFS—particularly in its severe form, which can mean being permanently bedbound or housebound—and mobilizing healthy allies (or fellow sufferers!) to create art cards for patients. My recipient requested a lion for courage which isn't my usual sort of ima­gery, but I'm very pleased with what I came up with. It also gave me an opportunity to experiment with stitching on card stock which I've wanted to try for a while.
Lucky Penny Opera Pitch
Fall 2022 I participated in Lucky Penny Opera's Pitch and Accessibility project. I've been waiting for it to be posted on their site, but it hasn't been yet so I'm sharing it here.
The project was to write a pitch for their 48-hour Opera Project where opera artists are put into multi-disciplinary teams to create a 5-10 minute opera over the course of a weekend. Lucky Penny also wanted some feedback on the accessibility of such an endeavour. As far as I know, I was the only disabled composer/ librettist to submit a pitch, and I had a Zoom conference with them afterwards to talk about things like temporal accommodations for someone like me who has a fatiguing chronic illness.
What the pitch project allowed me to do was to slightly flesh at an opera idea I've had for years. All the pitches had to contain:
– The sound of a baby crying
– A map
– The text: "It was at this moment she saw the irony of trying to fix the machine with violence"

Here is my pitch: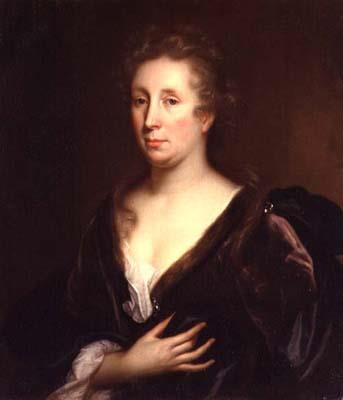 The Anatomist's Estuary
A snapshot of the life of Rachel Ruysch (1664-1750). Her father, anatomist Frederick Ruysch (1638-1731), was known for his macabre dioramas that contained preserved human specimens, including fetal skeletons. Rachel assisted him in his work and was a recognized painter on her own right.
Rachel had ten children, and this libretto imagines what she may have felt after the birth of her first child given her work with her father's dioramas while growing up.
The opera would start with Frederick working on one of his dioramas, introducing himself, then move to Rachel's aria—a map of my heart—then end with a duet between Rachel and Frederick about how she must distance her work from that of her father.
a map of my heart
libretto in the voice of Rachel Ruysch
if my heart is the land of love
it is veined with rivers
if the grotto of my birth
is my aortic arch
my arteries the hollows of my childhood
this map of my heart
where my life is lined and charted
where is the line of this child of mine
a river from the stream of my marriage?
my right atrium the mound of my mother
and here I am, a mother myself
the cries of my child pool in me
at the base of the hills of my vision
the estuary of my father
his work both macabre and sublime
these banks of stillbirths
eroding over time
and here in my arms
I hold this living child of mine
her fragile bones cradled at my chest
her heart beats so close to mine
this map of my heart
where my life is lined and charted
my child grows her own waterfalls
a vena cava hollow of her childhood
In this moment I see
the irony
of trying to fix my father's machine
with violence
I've left behind his anatomist estuary
I'll take the fork of craft
the watercourse of painting
in this land of love
along the river of my child
I shall follow these branches
all possibilities
through this map of my heart
where my life is lined and charted
travel these branches
across the land of love
to the edge of the peninsula of fate
After having been so distanced from my composition practice since I got sick in 2015, it felt great to work on this project. It was small and short enough that it felt doable for me, even if I had to pace myself carefully throughout.
Upcoming Webinar
Something I'm very excited about but hasn't been completely organised yet is I'll be giving a workshop-style webinar about my symptomatology process with CHASE's Medical Humanities Research Network at the end of October, 2023. I've attended a number of webinar workshops with this UK-based organization and they are always excellent so I was honoured to be asked. I'll post information here once everything is organized.
~
If you'd like to keep more abreast of my work, I'm publishing monthly creative work updates on my Ko-fi page, and post regularly on Instagram, Twitter/X, Mastodon, and Bluesky. All of those links and more can be found on my Linktree.