I'm pleased to announce that the In Corpore Sano anthology has begun publishing excerpts on Medium, including some of the writing I've done for the anthology as well as some of my symptomatology and anatomy embroidery pieces.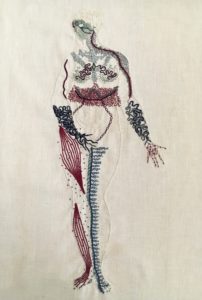 My personal essay excerpt, Meaning Making/Making Meaning :: In Corpore Sano presents Lia Pas outlines the way my creative practice has changed since becoming ill with ME/CFS in 2015 and has a number of my embroidery pieces as illustrations.
Amanda Glassman has written an outline of the online series titled Hello to IN CORPORE SANO :: Creative Practice & the Challenged* Body :: a web & print:document series .
Also, Written Over :: In Corpore Sano Presents Jill Khoury, a set of poems and prompts, is illustrated by another of my anatomy embroidery pieces.
There will be weekly excerpts published on Medium for the next few months, so please visit the In Corpore Sano Medium page for more writing and images on the challenged body as they are published.
US addresses can pre-order the print anthology for a discounted price here, but Canadian addresses will need to wait until the anthology is published in March or April to order a copy.