Since September 2011 I have mostly hermited myself away in order to work on a manuscript of poetry, text/image pieces, performance scores, and biofictions – all around the theme of anatomy as image. I'm happy to say that I am very close to having a manuscript ready to send out to publishers. The project itself is a huge one. Fred Wah pointed out to me last February that it is likely a life work. It seems silly to keep the work squandered away until the entire thing is done so I'm putting what I have into some semblance of order to send out over the next month. One piece—percuss—has been published in Ars Medica (Vol. 8, No. 1. Fall 2011), and another few pieces are forthcoming in Dandelion.
Related to this work, I performed at the &Now Festival: Tomorrowland Forever at the University of California, San Diego. I performed "she opened" as part of a larger collaborative work—Performance/MACHINE—with colleagues from the In(ter)ventions: Writing at the Edge residency that I attended in February 2011. Benny Lichtner (as Leo Genji Amino), Liat Berdugo, Kathleen Brown, Eliese Goldbach, Donna Fierle, Sonja Greckol, and Erin Robinsong.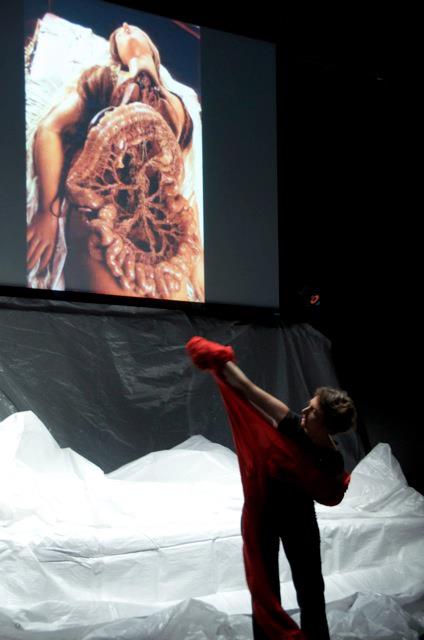 I also performed my poem "hotate/scallop" at &Now as part of their Innovation in a Box series. My performance can be seen here:
One major decision that allowed me to focus on all this work was resigning as director of the Mysterium Choir. Mysterium is a unique project but it is very time intensive. When I started assisting Angie Tysseland with the choir in 2009 I told her that if the choir ever started to take precedence over my own creative work I would have to resign. That certainly happened the last two seasons as I took on full directorship while Angie fought ovarian cancer and died peacefully in December 2010. Due to my extra responsibilities with the choir I requested an extension from the Saskatchewan Arts Board for the above writing project that had originally had a deadline of June 2011. Although I enjoyed working with the choir and the repertoire we chose it represented only a small part of my aesthetic. This was the other aspect of why I decided to resign.
I am still teaching Voicing Classes and have expanded my private lesson roster because poetry and experimental performance work don't pay so well. I love teaching voice. It takes me out of myself and allows me to see and hear differently when I do come back to my own work. I've condensed my teaching load into 2-3 days per week which leaves me 2-3 days to focus on my own work. A necessary thing.
Given my current schedule I have also been able to come back to a regular yoga practice. I've been alternating building up an Iyengar practice focussed on the digestive system (one of my weak points) and very slowly building my stamina working up to the entire Astanga I series. Once again yoga has become something I crave. My body is stronger, I've been sleeping better, and my concentration and digestion (yes, they are related) have improved immensely.
For the next few months I'll be putting the finishing touches on my manuscript, continuing my practices of writing, music, and yoga, as well as hopefully painting my studio space. This spring looks like it will get busy but I can't publicly blog about the projects yet. I think the most important thing at the moment is to keep up my practices in a calm and considered way. That is when I feel best about the work when I give it—and I—time to breathe.