Husk, a collaborative chapbook project by Ed Pas (who I happen to be married to) and I, is being launched by JackPine Press 18 June 2008 in Saskatoon.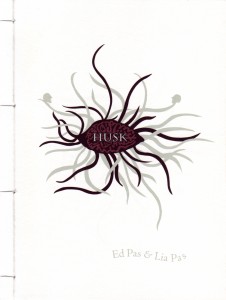 Husk is a being, a voice, a page that turns, a seed, a transformation. In Husk, Ed and Lia Pas have collaboratively created the tale of an uncanny being. Lia's sound-influenced text and Ed's surreal drawings recount—with a touch of dark humour—an evocative tale of visceral, organic metamorphosis.

An exquisite object, this book includes eighteen colour images with integrated text, printed on cotton rag paper and bound in a Japanese style with waxed linen thread.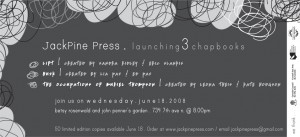 The launch is:
Wednesday, June 18 at 8 pm
Betsy & John's Garden
734 7th Avenue North, Saskatoon, SK
2 other chapbooks, Lift: Ghazals for C. by Sandra Ridley and Eric Slankis and The Occupations of Muriel Thompson by Leona Theis and Kate Hodgson are being launched as well.
If you're unable to make the launch and would like to buy a copy ($30 CAN) you can do so here.
We're very happy and excited about this project. Ed first blogged about this project here, which, as I am re-reading it, shows just how much the project has changed since its inception. The tone is still quite dark and viscera is involved on some level, but I think overall it is a curious and somewhat uplifting piece.
Ed and I have not done a lot of collaborative work, despite being married for sixteen years, and this is, we hope, the beginning of a new phase of our work. We do have another very small collaborative piece, a taste of wings which is, for lack of a better term, a graphic poem. By "graphic" here I mean the "graphic novel" kind of graphic, but it's a poem, not a novel. We have yet to find a published home for a taste of wings but have had some great feedback on the piece. If I've peaked your curiosity about this one, you can contact me and I might send you a sample.
update 9 June 2008: Ed has written a long post that includes technical information on the chapbook as well as images of a few pages from the book. You can see it here.