I'll be showing my new piece-in-progress – ossa ora – this Sunday in Regina as part of New Dance Horizon's Blueprint Series. I am creating this piece to be shown in late May as part of the Cathedral Village Arts Festival (also in Regina).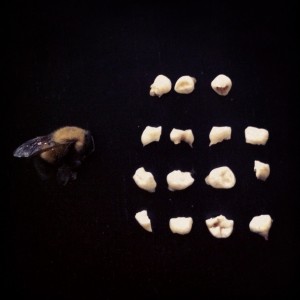 Blueprint Series #2
When: Sunday, April 13 at 2pm
Where: New Dance Horizons (2207 Harvey St)
Tickets: $15, available at the door.
For further information, please call (306) 525-5393 or e-mail events@newdancehorizons.ca


Explore the eclectic side of dance in the April edition of the Blueprint Series. This series investigates the interdisciplinary work in dance through improvisation, partnering, time/rhythmic relations, object collage, haiku, text and animations. Featured artists include Caitlin Coflin, Roxanne Korpan and Michelle Korpan in Sunday Morning Project, and Lia Pas presenting ossa ora.

New Dance Horizon's invites you to an intriguing Sunday afternoon BLUEPRINT at our studio on 2207 Harvey Street, from 2:00 pm to 3:00 pm.

Visit newdancehorizons.ca for more information
ossa ora is an imagistic interdisciplinary piece that begins with finding a child's baby teeth in a jar and goes on to explore through object collage, haiku, text animations, and song what perceptions are evoked by this discovery.
I would like to thank New Dance Horizons, The Cathedral Village Arts Festival, and the League of Canadian Poets for providing funding to create this work. I would also like to thank Robin Poitras, Pam Bustin, Bruce Rice, and TriVia for creative support and most especially my son who provided the teeth for this piece.
More information about the piece and my process here
That's adventure #2. Adventure #1 is that I also have some music in a video installation as part of Amalie Atkins' solo show at the MacKenzie Art Gallery in Regina. More info here

Adventure #3 coming in May!