This dance opera is a project I was still hard at work on when I became ill in August 2015. I'm pleased to say that La Caravan Dance Theatre continued the process despite me needing to attend to my health.
If you or anyone you know is in Calgary, please pass this information on to them.
A lovely article in the Calgary Herald.
Kindred spirits Lewandowsky met the production's composer, Lia Pas, in a workshop at the Banff Centre. The two discovered that they both were fans of Rumi's work. Pas composed the music to fit the poetry. "It's not Middle Eastern, it's not a Far-East kind of sound," says Lewandowsky. Instead, it's contemporary, blending the classical with electronic music. "(Lia) can breach between the two worlds unbelievably."
Another great article on GetDown.ca:
Lia Pas has taken 13 poems by Rumi and created a musical composition and libretto. The company then "experimented in the studio with the lyrics," Lewandowsky explains. "We saw what sounds would come and we performed different exercises." The company improvised as well as they worked through the poetry and created a narrative around the poetry. Some poetry was expressed purely through movement and some through singing and musical composition.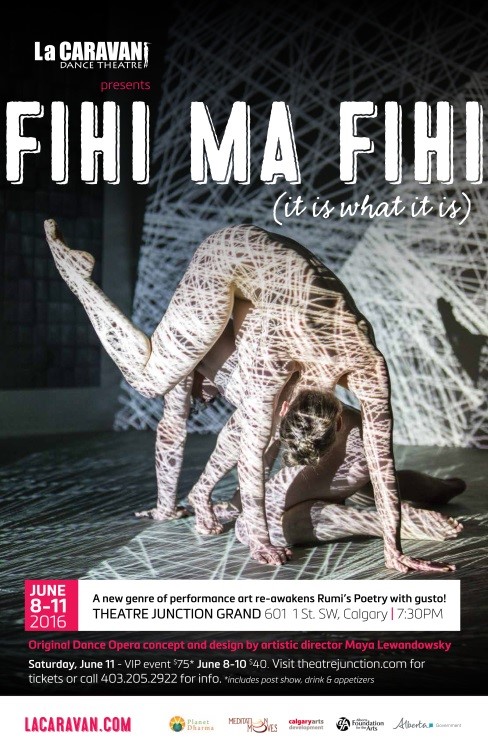 La Caravan Dance Theatre Presents World Premiere of Fihi Ma Fihi (It Is What It Is)
New artistic work draws inspiration from 13th century Sufi mystic and philosopher Rumi
Calgary AB – La Caravan Dance Theatre presents the world premiere of Fihi Ma Fihi (It Is What It Is) at Theatre Junction Grand, June 8-11, 2016. Tickets range from $40 – $75 and can be purchased at lacaravan.com.
Fihi Ma Fihi introduces a new genre of performance art reawakened with gusto through the poetry of revered 13th century Sufi mystic, theologian, and Islamic scholar, Rumi. A multidisciplinary dance-opera featuring vocal experimentation, innovative choreography, installation art, new media and projection mapping, and original compositions, Fihi Ma Fihi showcases the battle between birth and death, and the climactic awareness of freedom that reveals the enigma of human understanding about where we come from and where it is we're going.
Featuring original concept and design by artistic director and choreographer Maya Lewandowsky – with original composition and libretto by Lia Pas – Fihi Ma Fihi promises to awaken, revitalize, and enrich the fullness of human sensation through intricate interpretations of Rumi's cherished poetic works.
"Fihi Ma Fihi speaks to the poet, the questioner, the wonderer, in all of us", says Maya Lewandowski, Artistic Director for La Caravan Dance Theatre. "Drawing on some of the most vivid, graceful text in history, and told through the story of song, artistry and movement, the existential creature in each of us will be drawn out, illuminated, tantalized and invigorated."
Fihi Ma Fihi (It Is What It Is) runs June 8-11, 2016, at Theatre Junction Grand. For ticket purchase and information, visit lacaravan.com.