A couple of weeks ago I received a package from Istanbul. It took me a minute to recall who might be sending me a package from such an exotic place and then I remembered the wonderfully intense Nick Hobbs from Pantheatre. The package contained a CD of photos from the two Pantheatre workshops I attended in 2006.
Pantheatre is the ongoing project/company of Enrique Pardo and Linda Wise, both of the Roy Hart Theatre. I was introduced to Roy Hart Voice Work in 1994, my last year at YorkU. I had approached the vocally diverse Fides Krucker about voice lessons at a Murray Schafer opera conference. At the time I had started writing for voice but was having problems finding singers who could perform my pieces the way I wanted but was not confident enough in my own vocal production to do the job myself. Ms. Krucker said she would teach me if I would first take a workshop with her teacher, Richard Armstrong, who just happened to be leading one a week or so later.
So I attended Richard's workshop, and have been studying with him whenever time, money and workshops align. (I left Toronto shortly after the first workshop so have yet to take a lesson with Fides Krucker.) Since that first Roy Hart Voice workshop with Richard in Toronto I have studied with him at the Banff Centre numerous times and also in New York.
Roy Hart work itself involves physical, psychological and emotional opening of the voice. A phrase often associated with the work is "the voice is the muscle of the soul," and in my experience with the work that is the case. The work is intense, exhilarating, and transformative, but not easy. It brings a performer to their edges on all levels and safely allows them to explore those edges, which can sometimes be frightening and disturbing. Through these psycho-physical processes the voice is extended to what is sometimes termed "the 8-octave voice," which means that the performer will eventually access pitches that encompass (and sometimes go beyond) the range of the piano. However, not all of these sounds are what generally pass for "singing." "Broken sounds" or "extended vocal techniques" are explored through the edges of the range, timbre and expressive nature of the voice. Though the outcome of the work is to extend the voice the work engages the whole performer.
The last time I studied with Richard was in 2002 in New York. I was feeling quite burnt-out and Ed and I were also thinking of moving to Japan. The work I did with Richard that autumn was to explore composition through improvisation using the Roy Hart Work. I had gone with my friend Carol Sawyer and we had duo as well as solo lessons that were absolutely amazing.
By the following July I was off to Japan and while there I did very little voice work at all. I tried to arrange a workshop for Richard but wasn't able to due to lack of contacts in the theatre world there. I did manage to study some Nohgaku (Noh Theatre) vocal techniques near the end of my stay but that was it.
Then in 2005 I began my MA in Devised Theatre at Dartington. I think I have said before that Devising is a technique whereby improvisation is used to create work, much like what I had been doing with Richard in 2002.
In March and April of 2006 I was taking a vocal techniques class with Misha Myers and Emma Brown as part of my practice work in part 2 of my MA. This consisted mainly of Suzuki and Alexander Techniques but my previous Roy Hart Work came in useful as we were devising vocal-based work and being encouraged to use extended vocal techniques. During the course Misha emailed me information about the "Giving Voice" Conference at the Centre for Performance Research in Aberystwyth (which I wrote a little bit about here). I attended a 3-day workshop with Enrique Pardo of Pantheatre in his process of "Choreographic Theatre." This involved a meeting of Roy Hart Work with Physical Theatre and improvisation. Enrique's question for the conference was "Who is the Music?" and we explored various ways music, vocalization, and physical performance could be combined. The Choreographic Theatre work was exactly the confluence of practices I had been looking for a beginning to work with in my own practice. Nick Hobbs (who I mentioned above) was the "music guy" for the conference and took a number of photographs while DJing the improvisations. Here is my favourite photo of me from the workshop.
I remember I was mirroring Faroque Khan at the time. Faroque is a performer and martial artist and mirroring him was a little out of my comfort zone. It was playing that physical edge that allowed me to expand my expression.
After the workshop Ed, Jarrod and I flew to Canada for Easter, where I received an email from Enrique telling me about the Pantheatre Summer University in Malérargues, France (near Nimes) at the Roy Hart International Voice Centre. I decided to go, even though it was 2 weeks in the midst of my intense 1-year MA, with the thought that I could bring a new text to the workshop and begin to improvise with it in preparation for devising it as part of my final performance.
The two weeks were intense, ridiculously hot (I think it got up to +40C one day), and so affirming to my own work that it gave me intention to continue on this path. Enrique's theme was "Myth and Theatre" and continued the question of "Who is the Music?" I also had the chance to work with Linda Wise and to meet other members of the Roy Hart Theatre such as Liza Myers and Noah Pikes. I also continued some friendships I had seeded in Aberystwyth and made some new very wonderful friends. Here is my favourite photo of me from the Summer University: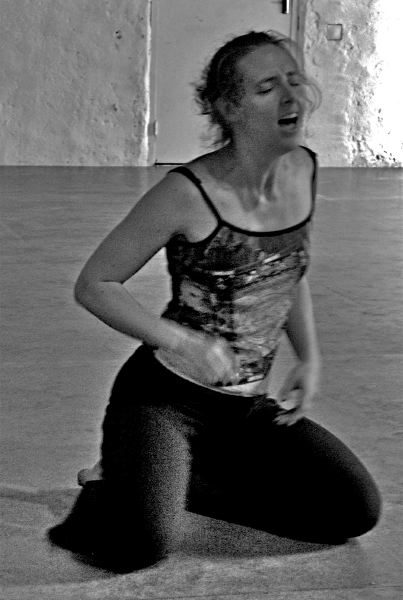 This was during a solo improvisation where Enrique was exorcising Meredith Monk and Laurie Anderson from my performative self. He had rightly sensed a love of their work in me. Part of Enrique's work is to find "genius" in oneself and in order to do this it is necessary to strip down major influences to find the core of one's own work.
I was so happy to receive the photos, especially during my convalescence. They remind me of when I was strong in healthy and give me a goal to work towards.
I plan to do more Roy Hart Work in the future. I was hoping to be well enough to attend another Choreographic Theatre workshop with Enrique in New York this April but I am not physically up to it yet. Not up for the Pantheatre Summer University this July either and Richard's next workshop at the Banff Centre is during my sister's wedding. But in 2008 I am sure I will have a chance and the physical strength and stamina to attend at least one workshop.
__________________________________
Now the usual blog updates:
Health: Digestion (and elimination) has been great, though I am still careful about what I eat. I'm still working on regulating my iron levels so that I have enough physical and mental energy to do what I want. I'm back on the red pills.
Performance: My reading went very well. I had a good crowd and I managed to stay standing for the whole 10 minutes that I read. I felt that I read well and luckily they had a microphone because I don't yet have the energy to project my voice very far.
Reading: Just finished Nick Bantock's "Windflower" which deserves and may in fact get it's own post. Re-read Gibson's "Pattern Recognition" which I appreciate even more now after living in Japan! I'm reading some Arturo Perez-Reverte which isn't really doing it for me, perhaps because I was expecting him to be a bit of a Magical Realist though he is more of a historical novelist. In non-fiction I just read 2 books on Kabuki and am now reading a biography of Peter Brook.
Music: Back on Joanna Newsom. Am liking it more the more I listen to it!