For the past few months I've been working with the University of Saskatchewan Drama Department as Musical Director for their upcoming production of Coram Boy.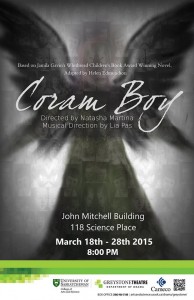 The action takes place in the 18th century. The benevolent Thomas Coram has recently opened a Foundling Hospital in London called the "Coram Hospital for Deserted Children". Unscrupulous men, known as "Coram men", take advantage of the situation by promising desperate mothers to take their unwanted children to the hospital for a fee. The story follows a range of characters, focusing on two orphans: Toby, saved from an African slave ship; and Aaron, the deserted son of the heir to an estate, as their lives become closely involved with this true and tragic episode of British social history (from Wikipedia)
I'm very proud of the cast and choir learning a number of very difficult pieces of music for this play and want to thank Robert Grier for being an excellent assistant music director and conductor and Natasha Martina for her directing and holding it all together.
Coram Boy previews on March 18, opens on March 19, and runs until March 28 (no performance on Sunday, March 22).
There are several ways to buy tickets:

1. In person. Box office is open from 11:00 a.m. to 2:00 p.m. on weekdays. On the day of a performance it is also open for one hour prior to the performance (i.e. 7:00 p.m. to 8:00 p.m.). When buying tickets in person, you can pay by cash, cheque, or with MasterCard or VISA. We do not accept debit.
2. By Phone. The box office number is 306-966-5188. You can buy tickets over the phone if you are willing to give the box office staff your credit card information (the tickets will then be held at the box office for pickup). If the box office is closed when you call you can leave a voicemail message and the staff will get back to you.
3. Online. Online ticketing is handled by information station. Go to their site (informationstation.ca) and click on events. Each performance of Coram Boy is a separate event. Click on the evening you want and just follow the prompts. You will need to pay by MasterCard or VISA. You can then print the tickets yourself, or just bring your online receipt to the box office and the tickets can be printed there.